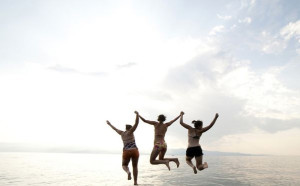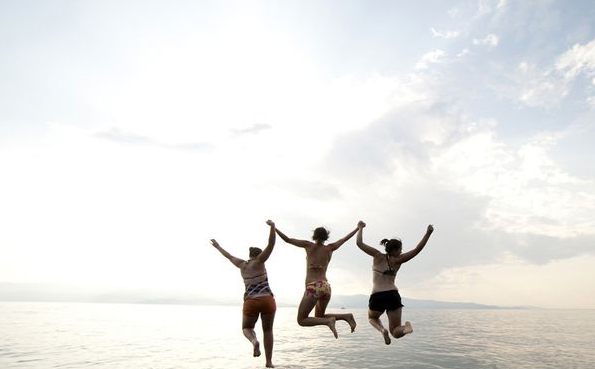 STEP 1: RSVP HERE!
STEP 2: Fill out a pledge form and collect donations
Download, print, and fill out a form with donations solicited from family, friends, and neighbors. Jumpers must collect all donations before the Lake Jump and bring them to registration/check-in.
STEP 3: Read and Sign Waiver
All Lake Jumpers must sign a waiver and anyone under the age of 18 years old must have a parent/guardian read and sign waiver. Bring waiver to the Lake Jump.
STEP 4: Bring Waiver, Donation Form and Donations to Stearns Beach.
Proceed to registration/check-in between 9:30 a.m. and 10:45 a.m. at Stearns Beach to turn in donations, donation form and signed waiver. Be sure to check in early to avoid the rush and enjoy our warming tent. Male and female changing areas are available at Stearns Beach for jumpers to change into their jumping attire. We are not responsible for lost or stolen items.
STEP 5: HAVE FUN!!
---
Jumper Tips
WEAR SHOES (AND BRING DRY SOCKS!)
This is probably the most important tip that I can think of. It's a long walk to the shoreline, and it seems even longer on the way back after the jump when you're wet and cold. Old tennis shoes are great for the Lake Jump! Make sure you bring an extra pair to put on when you get out of the water. (and don't forget the socks!) Your feet will thank you…
WHAT ELSE TO WEAR…
Extra shoes are a must, but you should also consider dressing in layers. Something you can take off quickly for the jump and put back on when you come out of the water. Quick dry swim suits are great for the jump, but when you get out you'll really appreciate being able to put on a nice, dry fleece top, sweat pants, or cotton shirt.
IF YOU CAN, BRING A FRIEND
You may want to have someone accompany you down to the waters edge. That way they can hold all your dry clothes and belongings when you take the plunge. Things can get hectic when hundreds of people jump into freezing water. If you've got someone waiting on shore, you'll know just where to go to get those warm clothes. It's a great job for whoever it was that put the first bid on your head!
BE ON TIME (ACTUALLY EARLY IS BETTER IF YOU HAVE TO PARK)
Sure, its cold. Sure, its the beach. But hey, it only happens once a year. Each year the jump has grown. Parking at Stearns Park will go quickly. You may have to park at the boat launch and walk over. To help keep you warm we'll have coffee and hot cocoa.
SINGLE FILE PLEASE!
In the final minutes before the jump, I'll be walking back and forth up and down the line to make sure that everyone is in a single file line. This is to ensure a safe journey into and out of the water. The last thing you want to see when you turn around to get out is another 50 jumpers running right at you on the way in! Please cooperate with the single file rule and be aware of the people around you. Some people want to get out fast. Others will splash around for awhile.
I KNOW IT SEEMS OBVIOUS BUT…BRING A TOWEL!
No real explanation needed here. It's the lake. You'll be wet when you come out…