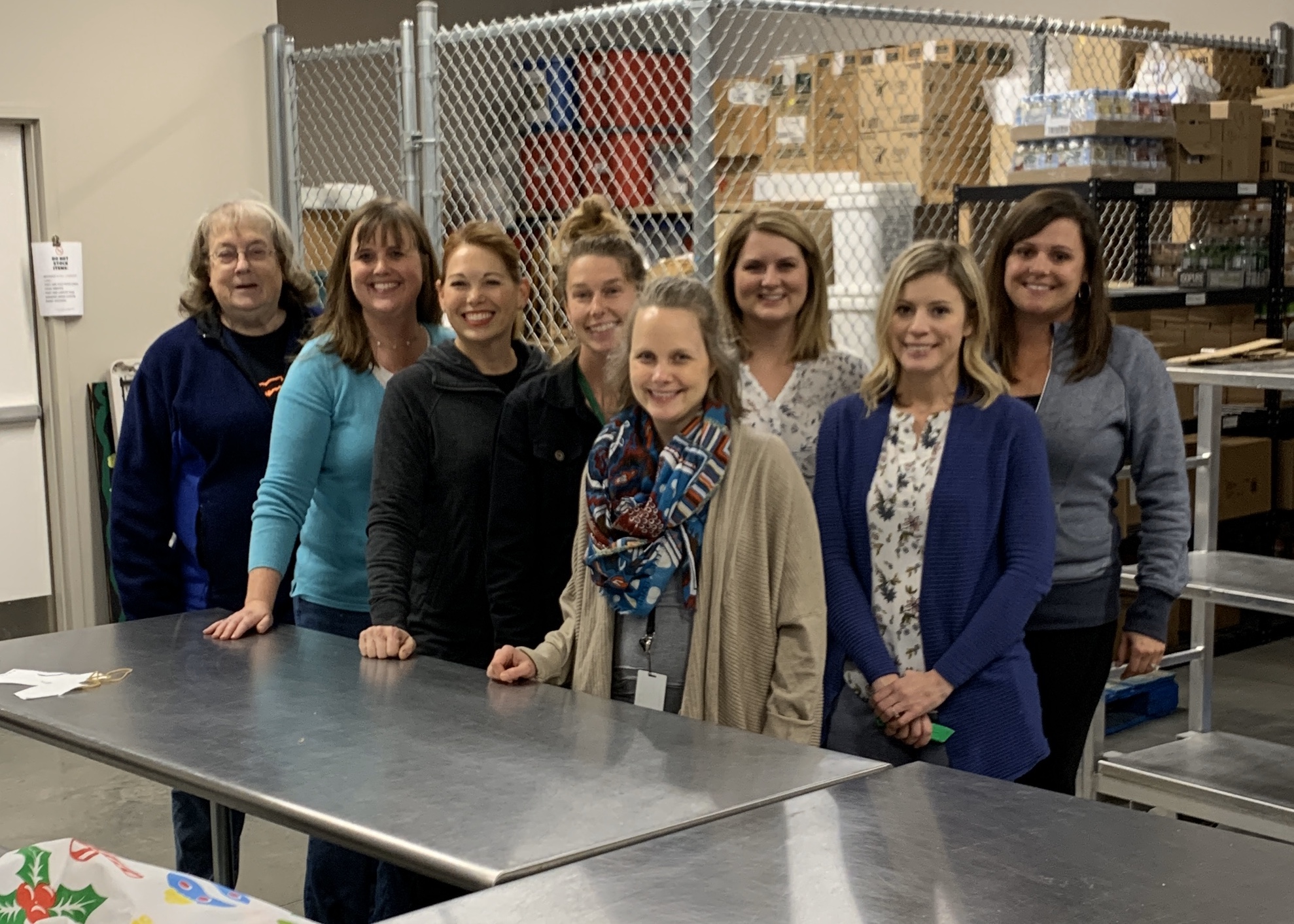 Lakeshore Food 4 Kids is run by dedicated volunteers. This group packs bags for the elementary portion of the K-12 program each week.
What happens when hungry kids go home over the weekend without the support of school-based meals? In the winter of 2015, a few Ludington moms got together after our kids went to bed. Little did we know that we would address this question in conversation and, eventually, in practice.
While chatting about our families, the topic turned to our kids' hungry classmates. One of us shared the story of a little girl she met at her daughter's class Halloween party. The tiny child chose to remain at the refreshment table eating fistfuls of food rather than celebrate and play games with her classmates. Another mom talked about her child's friend who never had a snack to bring to school; this child relied on a generous teacher or a classmate who snuck an extra snack from home. Yet another mom shared the story of a first grader at her child's school who visited the office every week to get a loaf of bread and jar of peanut butter from the school secretary. We realized that night that we had all been sending extra snacks to our children's schools. We also realized that this was not enough.
Today, Sara Ewing, Carrie Brandt, and Tara Autrey are in our third year of operating a weekend program for food insecure students at Ludington Area's three elementary schools. OJ Middle School Counselors Steve Hull and Amy Marsh, LASD Food Service Supervisor Donna Garrow, and Mark Boon saw a similar need at the secondary level. Inspired by Lakeshore Food 4 Kids, they began a very similar weekend program for middle and high school students who are food insecure. The two backpack food programs, Lakeshore Food 4 Kids and Orange and Black Packs, merged in January 2020 to become one program for K-12 students under the name "Lakeshore Food 4 Kids" (LF4K). The mission of LF4K is to diminish the meal gap for food insecure students over the weekend so they are prepared to learn.
Nearly half of students at Ludington Area Schools are eligible for government-sponsored free or reduced-price meals. These breakfasts and lunches may be the only food that some children eat. OJMS counselor Amy Marsh says, "I can tell you as a school counselor -- kids are hungry, and they are hurting."
LF4K addresses the most food insecure elementary children (roughly 10% of LASD's lower elementary population) and food insecure students in grades 6-12. Students in need are identified by teachers and counselors, and backpack food is distributed to participating children at school as they leave for the weekend or before a long break.
LF4K partners with several dedicated community volunteers, school personnel, and student groups, including West Shore ESD's Trailblazers and Horizons, each week. LF4K delivers 100 bags of food each week to the elementary schools and 50-70 bags to the middle and high schools. Bags are planned according to a 4-week, rotating menu, and each bag contains items similar to the meals a child would receive at school. These items include non-perishable, nutritious food such as fruit cups, cereals, pastas, peanut butter, vegetables, healthy snacks, and other easily prepared items to help fight hunger and meet the food shortage many children face over the weekend when they don't have access to school breakfast and lunch. Older students receive two additional dinner entrees.
We humbly invite the Ludington community to join in the collaboration between these everyday people who choose to passionately serve Ludington's most valuable resource, our children. As the grateful beneficiary of one of Mason County's most notable fundraisers, the Ludington Lake Jump, we truly believe what Helen Keller said: "Alone, we can do so little. Together, we can do SO MUCH."
To learn more about how you can jump in to help, download the pledge sheet here on lakejump.org or visit Lakeshore Food 4 Kids on Facebook.
Contact:  lakeshorefood4kids@gmail.com